Video Recordings
The Lovecast App will automatically save a cloud and a local (on our paid packages) recording for your stream. You'll be able to re-watch your special moments over and over again.
Cloud Recordings ☁️​
After your stream, your cloud recording will be almost immediatly available and viewable on your wedding website. You can also delete your recordings in the app under the Event > Manage > Manage Recordings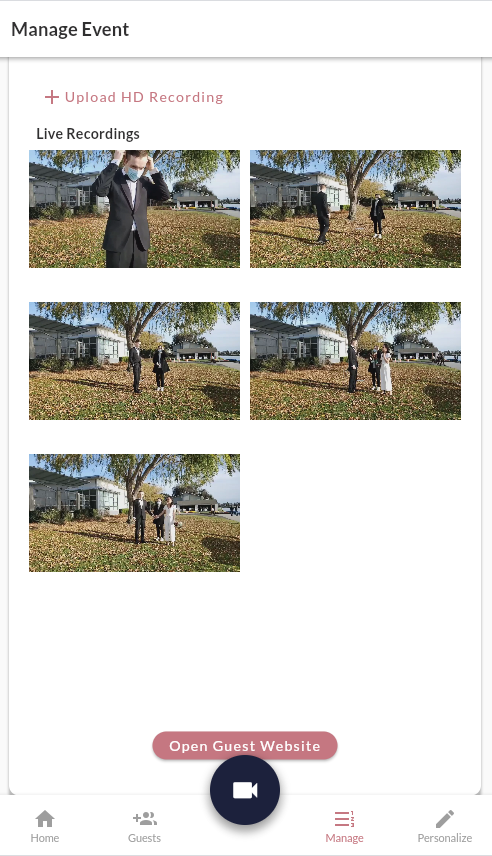 My cloud recordings are missing or in small peices!
A steady internet connection is important for livestreaming to function properly. If your venue has a weak connection, the video might temporarily disconnect.
The app has been designed both automatically reconnect and to dynamically adjust to the best video quality possible to ensure that even with the worst connections your guests will still be able to partake in the wedding!
And remember, we always save a local recording (see next section)
Local Recordings 💾​
Along with your cloud recording, the app will always automatically save a local copy of your video on our upgraded packages. You can find this video in your phone's video/photo gallery.
Local Recording Disk Space Requirement
We reccomend having ~2Gb free for each hour you plan to record.
What if I run out of space while streaming?
Your local video file will stop saving any additional video data. Your stream will otherwise continue as normal!
Upload local recordings​
If you had a few disconnections during your stream, you can always choose to upload a complete local video recording from the app! After your event, you'll see an option "Upload HD Recording" on your Event > Home page where you can do this.